ACCURATE GUT ANALYSIS | Get Personalized food recommendations tailored to your body based on the most advance technology developed for our national security at the Los Alamos National Lab. Stop relying on one-size-fits-all diet fads to reach your health goals.
WHY YOU NEED A MICROBIOME TEST | Take the guesswork out of eating right with a science-based at-home test. No more fad diets & conflicting food advice. Instead food & probiotic recommendations based on your personal gut activity.
KNOW WHAT TO EAT | Your results & recommendations allow for you to make informed decisions about which food or supplements to consume to help you achieve your goal of weight loss, better sleep, improved digestion, increased focus, healthy metabolism or higher energy.
THE SIMPLE PROCESS | Your mailed kit will include detailed instructions on how to collect and ship your sample with pre-paid shipping to Viome's world-class lab and receive results online and on the Viome app in as little as 4 weeks. Processing times may vary by state.
USE THE APP | Viome's easy to use app allows you to conveniently access your personalized recommendations to discover the foods you should be eating (or avoiding) and why. Your gut scores help you understand your gut's current state.


UNIQUE SCIENCE BEHIND VIOME | Viome's state of the art metatranscriptomic technology & Artificial Intelligence engine have the power to analyze the precise activity of all bacterial, viruses, yeast, fungi and mold strains in your gut and their integrative impact on metabolism & gut health. It will tell you what foods to avoid and what foods are your superfoods based on how your microbiome is likely to respond to these foods.
NUTRITION RECOMMENDATIONS FOR ANYONE | Viome's gut microbiome test is for anyone looking to level up their health such as expecting mothers, biohackers looking for an optimal diet, or anyone confused about what to eat for weight loss, better sleep, improved focus or tired of bloating and other digestive issues.
AVAILABILITY | Viome is CLIA certified under United States Federal regulatory standards ensuring accuracy and reproducibility of clinical lab results. Viome is currently available in Australia, Belgium, Canada, France, Germany, Luxembourg, Netherlands, Singapore, the UK and the United States with the exception of New York. Viome is expecting to get the additional license for New York in the very near future but until that time they're unable to ship Viome kits or receive samples shipped from an address in NY.
NOTE: Lab test orders are final and non-refundable. Lab test orders are valid for 6 months from the date they were ordered. If the lab has not received all specimen and required forms within the 6 months, the lab test has expired without receiving a refund.
What's Included?
What's the Process?
START YOUR JOURNEY IN 3 EASY STEPS
You order a kit.
Register your kit, collect your sample, and complete your questionnaires.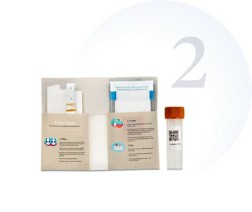 We analyze your sample.
Send your sample off to our state-of-the-art laboratory for analysis.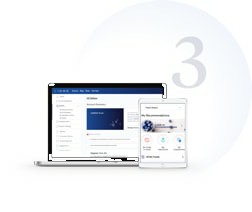 You get results.
Your recommendations are delivered right to you through your Viome app, tablet, and computer.
You order the Viome Gut Intelligence Test Kit.
Your kit is sent to you at your home via USPS (Domestic & International).
Once you received your kit, immediately register your kit at viome.com/register, then log in to your Viome account, either on the website or on the mobile app, and complete all 6 questionnaires. Collect your sample by following the instructions included with your kit.
Send your collected sample (following the instructions provided) back to the Viome lab in the provided return mailer.
Viome's results and recommendations are normally released within 4-8 weeks of receiving your sample and completed questionnaires.
Viome is a team of leading entrepreneurs, scientists, and physicians using cutting edge technologies to understand the microbiome at its molecular level and apply these findings to make illness optional. Viome's operates a CLIA certified laboratory and provides a 'gut intelligence' test that uses their pioneering artificial learning engines designed to not only analyze your data, but to aggregate all the biological data they receive, and as the sample size grows, help the AI engines spot trends and influences which will unlock scientific breakthroughs.