In this modern age, environmental pollution begins in the womb. Toxins pollute every facet of our lives, from the food we eat to the air we breathe. The human body is equipped with a natural ability to detoxify itself via the liver, kidneys, and colon, but when we are exposed to more than what these systems can handle at once, bioaccumulation occurs. This vast increase of chemicals in our environment greatly alters the body's ability to rid itself of toxins, and toxic overload can trigger many of today's chronic health ailments. It is invaluable to cleanse the body of toxins on a regular basis.
Enviromedica's Magnetic Clay Bath offers:
A time-tested detoxification method
The highest-grade, desert sourced clay
A uniquely potent, professional-grade clay bath formula
Synergistic formula of bentonite clay + Himalayan pink salt maximizes the natural adsorptive or "pulling" properties of the clay
No emulsifiers or chemical additives
The strongly absorptive clay will attract, hold, and eliminate toxins that are released through the skin, while ions from the salt minerals interact with the skin, opening it for exchange with its environment.
This formulation offers a viable detoxification therapy to assist in the removal of not only heavy metals, but chemicals and other toxins from the body. It is widely regarded as the most effective clay bath and recommended by health professionals worldwide.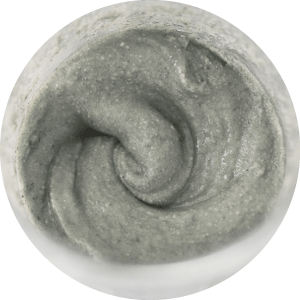 Clay Preparation
This is not your grandmother's bubble bath. You are re-creating an ancient therapeutic practice in your bathtub. A few extra steps will ensure properly hydrated clay, potent toxin removal, and proper drainage post-bath.
1. Add 1/2 cup of clay powder to a standard kitchen blender that is 3/4 full of warm water.
2. Blend until smooth, then add to bath water.
3. Repeat previous steps until you have added desired amount of clay to your bath (see recommendation for 'Full Body Bath' and 'Foot Bath' below).
(Alternate Method): Slowly sprinkle measured clay powder into warm, running bath water, thoroughly mixing clay with a whisk or similar utensil. Tiny clumps are normal. Do not fill tub or foot bath more than half way. Let mixed clay sit in the tub for 15-20 minutes to allow the clay to fully hydrate. Then add more hot or cool water as necessary to achieve desired temperature.
Bathing & Post-Bath
1. Submerge your body and stir the water to circulate the clay while bathing. (Imagine you're sitting in a hot spring bath, and feel the toxins drift away from your body.)
2. After allotted time, allow tub to drain.
3. Rinse remaining residue down the drain and continue to run warm water for 1-2 minutes to ensure clean drainage.
4. Rinse skin to remove additional clay residue.
Post-Bath Care
Some minerals and electrolytes may be depleted during your bath session and should be replenished as soon as possible.
Moisturize skin with a natural moisturizer to relieve any dryness.
Drink plenty of mineral-rich spring water, herbal tea, and rest.
Additional Information:
Full Body Baths: 1 to 3 cups (236-700ml), water temperature 100-104˚F (38-40˚C), bathe for 10-20 minutes. Start with 1 cup of clay powder per bath, and increase by 1 cup with each successive bath treatment. Sensitive individuals should use less clay powder and/or stay in the bath for less time. 
Foot Baths: 1 to 2 cups (236-475ml), water temperature 100-104˚F (38-40˚C), soak feet for 20-30 minutes. Use a non-metallic foot basin, and enough clay/water mixture to cover ankles. The preferred method (blender mixing) to prepare clay foot baths is required for optimal results.
This product is safe for drains and septic tanks, provided the clay is properly hydrated. Take care to thoroughly rinse clay residue off any mixing utensils immediately after use.
Warning: Not recommended for those who are pregnant or nursing. If you have a medical condition or are taking prescription medication, consult with your healthcare provider before use. Keep clay out of reach of children. 
This product is intended for EXTERNAL USE ONLY. Do not ingest. Avoid inhalation of clay dust. Avoid contact with eyes. Take care exiting bath, clay can be slippery.
Premium-grade sodium bentonite, Mojave Desert sourced calcium bentonite, Himalayan pink salt
Offered in a 4.62 lb and 1.1 lb resealable stand-up pouch
Enviromedica was founded to combat the negative impacts of the modern world and to apply science-based evolutionary theory to understand what drives the human body toward or away from optimal health. Their research is reflected in a full spectrum offering of foundational support products the body can easily recognize. Enviromedica's products reflect symbiotic combinations that occur in nature, utilizing only the purest ingredients from around the world. They deliver superior formulations of the highest quality to help reconnect and align the body with its ancestral biology.