How To Join a Telehealth Session
You can attend a Telehealth (remote) session using GoToMeeting from anywhere, anytime using a compatible computer or tablet device. Check below for a list of system requirements or run your system's compatibility automatically, optionally download the app, and view the attendee guide for how to use the application.
The easiest way for you to join a Telehealth (remote) session with your practitioner is by using a supported browser (preferably Chrome or Edge) and the link you received in your appointment confirmation/reminder email (see example below).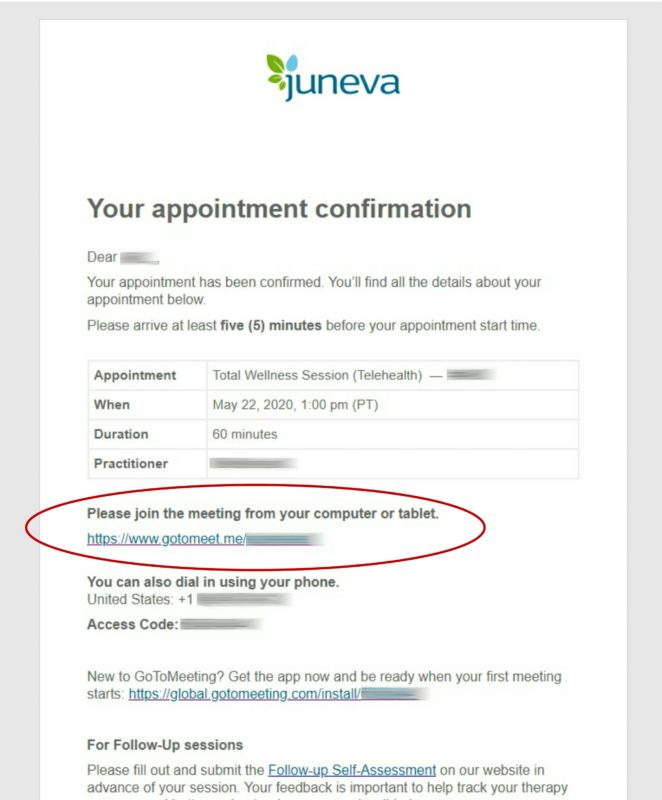 Once the webpage opens in your browser, click the 'Join Meeting In Browser' link below the 'Join My Meeting' button. This way you can join without having to download and install the GoToMeeting application.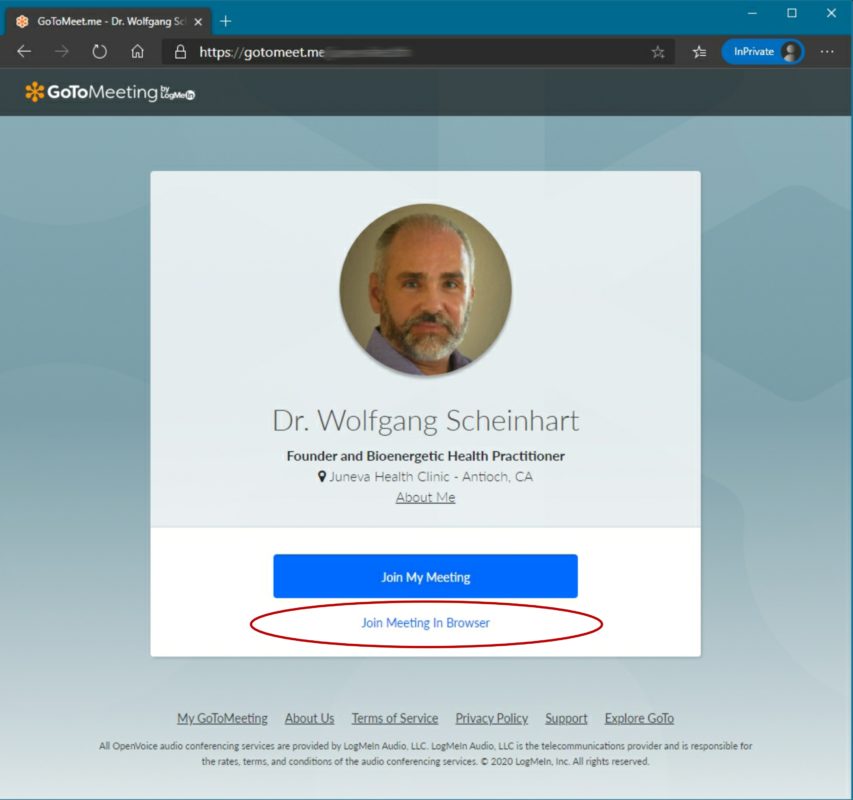 Click here to learn more about How To Join a Session with GoToMeeting.
Download App
You can optionally download and install the GoToMeeting desktop / mobile application to access all of the collaboration tools, including shared keyboard/mouse control, drawing tools, and multi-monitor screen sharing. However, it is not required for participating in a Telehealth session with your practitioner.
Install on Windows or Mac
Click the Download button to get started. The GoTo Opener app may ask your permission to install itself and the GoToMeeting software. Once you see the GoToMeeting Suite, you can join someone else's meeting. For more help, see step-by-step instructions for installing on Windows and Mac.
Install on Mobile devices
Mobile users can install the GoToMeeting app free on iOS, Android or Windows devices. See the System Requirements. Keep in mind that an adequate screen size is required to clearly see the scan result screens your practitioner will be sharing with you during the session.
SYSTEM REQUIREMENTS
Windows 7 or later
Mac OS X 10.9 (Mavericks) or later
Linux/Ubuntu (Web App only)
Google Chroms OS (Web App only)
iOS 11 or later
Android OS 5 (Lollipop) or later
Web browser (Applies to Web App only)
Google Chrome v57 or later
Microsoft Edge v77 or later
Computer: 1 Mbps or better (broadband recommended)
Mobile device & Chromebook: 3G or better (WiFi recommended for VoIP audio)
2GB of RAM (minimum), 4GB or more of RAM (recommended)
Webcam for HDFaces Microphone and speakers (USB headset recommended)**
iPhone 5 or later
iPad 3rd gen or later
Android OS 5 (Lollipop) or later
** Note: Most devices have built-in speakers, but you will get better audio quality while connected via VoIP if you use a headset. You can also use your phone to dial in and connect to audio.