The NES miHealth device is designed to support the body-field
...in directing efficient and accurate activity of the body. In this way, we can support the body's everyday health!
When it comes to supporting your health, results are the most important.
Fast results, especially right now, are even better.
That's why you'll love to know 88% of participants in a large Outcome Study saw improvement after just one session. (You can find an infographic of the study at the end of this article)
The NES miHealth device was even featured on the popular and highly regarded US TV program: The Doctors. They explained how it can be used to help reduce muscle pain and more.
That's just the beginning. The NES miHealth is one of the most impressive tools you can use to support your health. Though the most common use of the miHealth is to help with pain, the miHealth is incredibly versatile. Think of it as your bioenergetic 'Swiss-army-knife'.
So, what's the miHealth?
The NES miHealth is a handheld bioelectric, biofeedback and body-field device, combining (and improving on) a number of established technologies with NES' one-of-a-kind information-based technology. The miHealth is as unique as it is powerful and completely revolutionizes these three technologies:
#1 PEMF: Pulsed Electromagnetic Frequencies 
PEMF has been around for decades and while there's debate about whether to use strong or weak fields, that's never been an issue for the miHealth because the PEMF it uses is so gentle … and completely different from every other device.
#2 TENS: Transcutaneous Electrical Nerve Stimulation 
TENS units are used to help manage pain, doing so through electrical nerve stimulation, much as the miHealth does.
The problem with traditional TENS is that it effectively works by beating up the nerves until they are numb to the pain sensation.
It doesn't do anything to correct the problem. That's why you need an "adaptive" response to nerve stimulation, so you can support the nervous system rather than wearing it out. That's where SCENAR comes in.
#3 SCENAR: Self-Controlled Energy Adaptive Regulation
This technology takes TENS to the next level through real-time biofeedback from the nervous system. Many times a second, it automatically adjusts the electrical frequencies it's exchanging with the nerves.
But the NES miHealth goes beyond traditional SCENAR technology by being the only bioelectric technology we know of to use global scaling, making our biofeedback more precise than anything else on the market. It does this to eight decimal places.
Global scaling makes it possible for SCENAR to use MILLIONS of frequencies, perfectly attuned to your nerves at that moment. 
In other words, we go from "roughly" what the body needs to "precisely" what the body needs with our adaptive nerve stimulation.
Listen to what clients and practitioners alike have to say about the use of the miHealth in the video below:
Why NES miHealth?
- It is simple, flexible, and customized
- Use it to reduce stress & boost immunity!
- 200+ pre-programmed settings such as: acute balance, after sport, recharge, sleep, chill, EMF, anti-aging, fat, and skin!
Many people are currently using this device to reduce stress & boost immunity! To learn more about miHealth functions and therapy click here.
The NES miHealth Outcome Study
If the question is: Does the miHealth work? The answer is, "Yes."
In fact, the results are staggering. Quickly scan through the image below to see just how much the miHealth can help, or read through it for the entirety of the details.

Get Started Now With Our Total Wellness Bundles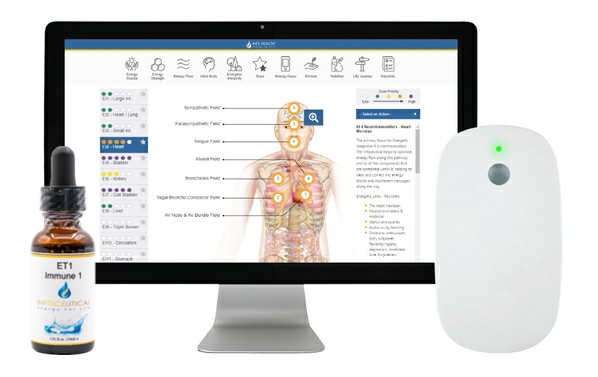 NES Scanner Wellness Bundle
Our 'entry-level' Total Wellness Bundle with the revolutionary NES Scanner device included so you can start experiencing healing benefits at a comfortable price point.
Learn more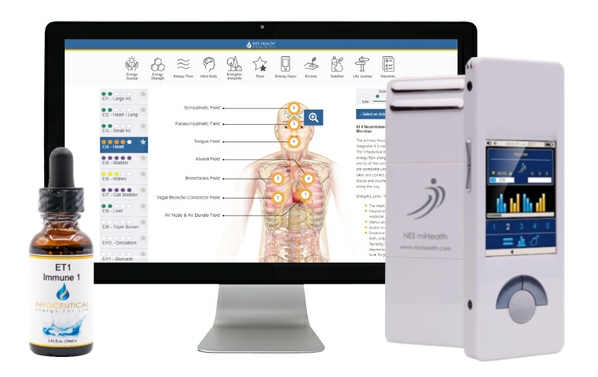 NES miHealth Wellness Bundle
Our 'premium' Total Wellness Bundle with the award-wining NES miHealth device included so you can experience maximum healing benefits, and help you feel good in everyday situations.
learn more
Body-Field Scan
Ready to find out what's impacting your energy levels by using our bioenergetic scanning technology. Check out your body's energy with a Body-Field scan and gain deeper insight into your holographic self with our certified Bioenergetic Practitioner. For an In-Clinic visit click here, or, for a Telehealth (remote) session click here.
We offer a completely new, alternative and bioenergetic health care approach based on 21st century science, technology and quantum physics with personalized, holistic therapy solutions such as, NES body-field scan & therapy, miHealth biofeedback, PEMF, Scalar Wave, Rife and Vibroacoustic (VAT) healing modalities that can restore optimal health and well-being throughout the body, mind and spirit in the most natural way. Let us help you restore your health and energy!