Valentine's Day is almost here and often brings up feelings we have about love:
How it is given and received in our relationships. How it is either lacking or abundant in our lives. How it even looks, smells, and tastes, as we're bombarded with the commercial manifestation of Valentine's Day: pinks and reds, chocolate hearts, roses, champagne and more.
As the New Year unfolds, we often welcome the chance to re-evaluate what's working and not working in our lives. Nothing says true love like empowering you, restoring your energy, and helping you clear your crown chakra. Our Love Infoceutical Set is the perfect launching pad to assist you in your personal transformation.
The Feel Good "Love" Infoceutical is not about attracting the right partner or even necessarily feeling romantic love for others. It's rooted in the idea of enabling self-love, which allows the heart to open and supports the body-field in freely giving and receiving love.
If you are struggling with receptivity, openness, emotional balance, connection, heartbreak, depression, or low self-worth, the Love Set is great for general well-being - and one you can use year-round.
What's included in the Love Infoceutical Set
Polarity: Using polarity as a starting Infoceutical enables the body-field to realign and correct energetic distortions that may be contributing to low mood or lack of love for yourself. Since it is difficult for the body-field to be corrected unless Polarity is normalized, this Infoceutical can help to promote the ability for positive health changes, while assisting in physical and emotional detoxification that is needed to access a more peaceful and open state.
Love: The Love Infoceutical is specifically designed to balance feelings of Oneness, as it relates to universal love, self-love, and the ability to connect authentically with the self and others. It is associated with the crown chakra and ultimately, spiritual enlightenment. It assists with a state of true, unconditional love.
Peace: The Peace Infoceutical strengthens the Love Set by helping to resolve and transform memories that are upsetting or difficult. Peace assists with mental calm and can foster the feelings of forgiveness needed to experience a state of love.
ESR: ESR resolves energy and information blocks that are caused by stress. As part of the Love Set, ESR gives the body-field a better chance at coping with trying emotional circumstances that block the flow of self-love and emotional well-being.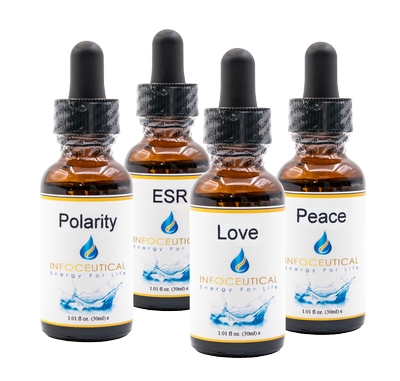 How to Use the Love Infoceutical Set
Since the Love Set includes only Feel Good Infoceuticals, it can be taken by anyone for emotional healing when coping with stressful emotional issues and where the needs for openness and self-love are indicated.
Of course, these Feel Good Infoceuticals are only part of a range of Infoceuticals that help restore and maintain your overall health and well-being, and by working with our practitioner and having regular body-field scan assessments of your overall body's health and wellness situation can lead to the best outcomes.
Taking the Infoceuticals
Generally, you can take these Feel Good Infoceuticals once (or multiple times) a day in doses of 9, 15 or 28 drops at a time and adding them all into a 4-6 ounces glass of water. You can take the Infoceuticals before, after or during a meal. It is recommended to take them in the morning unless you are instructed to do otherwise. You should experiment with the dosages that meet your needs. Because the drops are informational in nature rather than biochemical, they can be taken safely and conveniently with any foods or nutritional supplements and used in conjunction with other health programs or therapies.
You can use these Feel-Good Infoceuticals alone or integrated with your therapy protocol our practitioner has provided you with, as long as you don't exceed 6 Infoceuticals per day.
You can purchase the Love Infoceutical Set in our online shop.
Body-Field Scan
Ready to find out what's impacting your energy levels by using our bioenergetic scanning technology. Check out your body's energy with a Body-Field scan, and gain deeper insight into your holographic self with our certified Bioenergetic Practitioner. For an In-Clinic visit click here, or, for a Telehealth (remote) session click here.
We offer a completely new, alternative and bioenergetic health care approach based on 21st century science, technology and quantum physics with personalized, holistic therapy solutions such as, NES body-field scan & therapy, miHealth biofeedback, PEMF, Rife and Vibroacoustic (VAT) healing modalities that can restore optimal health and well-being throughout the body, mind and spirit in the most natural way. Let us help you restore your health and energy!