Give your body the alkaline hydration it deserves – anytime, anywhere!
Also known as the H2Go, The Waterman is your unique portable solution to safe drinking water. The Waterman is easy for you to use. Simply fill it up, drink it down, or take it with you to immediately enjoy the benefit of fresh alkaline hydration on the go.
Waterman's central cartridge contains alkaline minerals, magnets and activated carbon filter medium. It re-mineralizes and ionizes ordinary tap water while filtering out up to 99% of chlorine, fluoride, heavy metals, chemicals and bacteria.
The Waterman makes it easy to drink your fill of good water every day. Now featuring Fluoride removal filter cartridges!
With 1 filter treating your water, you're covered for up to 100 Gallons (400 liters) or 3 months!
Capacity 20.23 Fluid Ounces
Turn tap water anywhere into great tasting, fresh alkalized mineral water
Better cellular hydration for a healthier more energetic life 
Safely remove impurities - chlorine, fluoride, heavy metals, chemicals and bacteria.
Quickly re-mineralizes tap water with around 60 Bio organic trace minerals
Compact size and portable for work, school, travel, sports, in flight, gym, camping etc. 
Avoid expensive bottled water and drinking micro plastics found in most brands.
No landfill and environmental waste from discarded single use water bottles.
Each filter life up to 100 Gallons (400 liters) or 3 months. 
No electricity or tap connection required.
Extra packs of 3 x filters (not included) available to keep you going
Key Points
Completely portable, compact and lightweight, the Waterman goes where you go. It fills easily from any tap, making it great for home, sports, travel, gym and work use. Rather than carrying the weight of a lot of heavy water when traveling, carry the Waterman, and filter as you go. No electricity is needed.
All-natural gravity fed system
Portable, refillable 20.23 Fluid Ounces (600ml) bottle
Activated Coconut shell carbon filter reduces impurities - chlorine, heavy metals, bacteria & odor
Quickly re-mineralizes tap water with alkaline mineral cartridge
Special Nano Tech Carbon removes up to 99% of Fluoride
Clean, fresh tasting, energized water
Ideal for: Hiking, sports, travel, in flight, gym, camping, school and work
Economical at around 3 cents per liter
Reduction in landfill waste from discarded shop-bought water bottles
Reduction in carbon & fossil fuels related to production & transportation of bottled water
Replaceable filter, life cycle up to 90 days*
Creates water with an ORP of up to -250 (will vary based on source water)
Creates Alkaline water with pH value of 8.5 -10 (will vary based on source water)
Magnetized creating hexagonal water molecules
Bio ceramics produce far infra-red rays to give Ki (life force energy) back to water
No electricity required
No plumbing required
Lifetime Warranty
BPA free product
It's safe and Environmentally Friendly!
The Waterman is made from BPA free materials & is non-leeching & due to the nature of the filter it retains a bacteriostatic function. This prevents the propagation of bacteria, which is one of the biggest problems with other reusable & also disposable bottles.
Store-bought bottled water isn't just expensive. It contributes to the consumption of tons of environmentally un-friendly plastic waste made from non-renewable fossil fuel resources.
When these bottles are emptied, the greater percentage become landfill - or garbage that ends up in waterways.
Greenhouse gases are the by-products of manufacturing these disposable, store-bought plastic water bottles & many of the reusable bottles which still have a limited lifespan.
So too are the carbon emissions from vehicles that transport these bottles to shops.
The re-usable Waterman makes it easy to drink fresh alkaline water anywhere – without wasting your money or the planet's resources in the process.
Powerful, Long Lasting, Portable Filter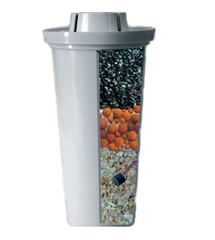 The Waterman filter significantly reduces chemicals, heavy metals and bacteria from tap water.
Water quality tests show that the Waterman removes up to 99% of chlorine - a harsh, unpleasant tasting toxic chemical used to disinfect bacteria in municipal tap water.
Remove up to 99% of Fluoride using our new nano activated carbon.
To help remove and prevent the propagation of harmful bacteria the Waterman filter contains long lasting silver-activated coconut shell carbon, magnets, bio ceramics and Somelite™ coral sand.
The result? Cleaner, healthier, great tasting drinking water for you or your family's hydration needs.
Pets too.
Negative ion (Anion) water
Beneficial negative ions abound in Nature in good quality air and some naturally occurring minerals.
The minerals in the Waterman filter significantly reduce the positive ion count of the tap water filtered through its filter medium.
Our patented Bio ceramics, which emit a far-infrared energy into the water creating negative ions which increase the energetic nature of the water giving it life & creating a clean fresh taste.
Also helps to reduce the water molecule size to help you hydrate faster & reduce acidic build up in our cells.
It's an Alkalizer
Stress and over consumption of processed, acidic foods and drinks disturb the blood's natural alkaline balance of pH 7.4.
This balance is critical to preserving good health and immunity as degenerative disease thrives in an acidic environment.
The Waterman minerals produce an alkaline pH of around 8.5 – 9.5 to the filtered water.
This aids your body in neutralizing the acidic build up from our lifestyles & diets & helps to restore optimum functionality to major organs & immune system while noticeably increasing energy & concentration.
It efficiently delivers fresh, easy-to-drink alkaline water, wherever you are.
It is lightweight and easy to take it with you so that you never need to go thirsty or drink acidic drinks again (Teas, coffee, soft drinks & most bottled water).
The taste is excellent, clean & crisp as water should be!
Magnetized structured micro cluster water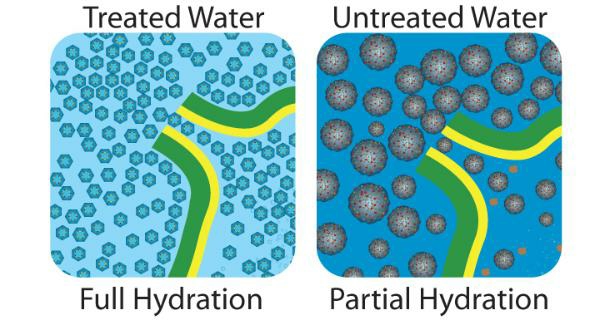 The waterman contains special magnets, which restore waters natural hexagonal cell structure giving a reduced cluster size & surface tension.
This enables the water to penetrate into your cells faster & with greater ease thus increasing your rate of hydration.
Magnetized water's biological effects:
Promotes growth, fitness and metabolism.
Strengthens the resistance of the living body due to its high activation in the body.
Helps with digestion and the helps bowel activities.
Prevents or treats gallstones and urolith (Urinary tract stones) generation.
Helps to discharge bodily waste and increases liver function.
Maintains the tears, sweat, saliva, and the intestinal fluid.
Suppresses germ growth.
Solubility, cohesion, and conductivity are increased.
Maintains longer cohesion.
Magnetized water does not evaporate easily.
Due to its molecular structure being densely crowded, it is slow to freeze and slow to melt.
Due to its particular molecular structure, concentrated water colonies are formed.
Cancer preventative. Water treated at the N Pole creates a higher ratio of hexagonal water. Therefore, there are studies that claim it suppresses the growth of cancer cells.
Create more hexagonal micro-clustered water.
Mineral Water
The Somelite™ coral sand in the Waterman re-mineralizes water, working together with bio ceramics to enrich water with around 60 essential sea-based minerals such as calcium, magnesium, sodium and potassium.
A mineral-deficient diet can contribute to significant health problems, causing mental and physical symptoms that affect everyday behavior.
A good source of mineral-rich hydration, together with proper nutrition, can give the body minerals it needs to stay in good health.
De-oxidized Water
The ORP (Oxidation reduction potential) value of the mineral water from the Waters Bio Mineral Pots is very close to the structure of the water in a living cell. 
Giving this water a greater cellular affinity for hydration & helps to combat cellular & DNA damage from acidic lifestyles.
* Filter lifespan subject to average daily use & water quality
Height
Diameter of base
Weight
Materials
Capacity
Filter Set Life
5.75 inches (190mm)
3.14 inches (80mm)
12.3 Oz
ABS plastic and Triton bottle
20.23 Fluid Ounces (600ml)
Up to 100 Gallons (300L) or 3 months*
* Filter lifespan subject to average daily use & water quality
At Waters Co USA our first and foremost priority is to produce exceptionally high quality water filter systems, which will turn contaminated tap water into great tasting, clean, fresh, alkaline, magnetized, and energized (live) mineral water. Our mission is to make these products available to you at a sensible and affordable price.
Our Environmental Goal is simply to provide a healthier and more sustainable option to disposable bottled water. By doing so we can lessen the impact associated with bottled water on our planet's precious resources, landfill and littering of our land, rivers and oceans.