Feel an immediate sensation of calm & elevate your state of mind with just a few sips, any time of day, without stimulants.
Euphora provides natural euphoria of body & mind - Heightened optimism – Profound sense of well-being - Long lasting mood boosting effects.
Delicious & convenient Euphora can be taken as a single dose or sipped throughout the day - Zero sugar - Refrigeration not required
Delightful evening chill - add Euphora to soda & juices to create deliciously calming beverages & enjoy a delightful evening chill.
Experience Euphora
Blissfully calming, the soothing effects of Euphora suppress anxiety and elevate your mood, enhancing your ability to deal with the stresses of daily life.
Say Goodbye to Stress
Relax and feel like yourself any time of day with the ease of sipping a delicious shot. Replace unhealthy alternatives with Euphora as the ultimate evening chill.
Euphora Promotes
• Natural euphoria of body and mind • Heightened optimism and profound sense of well-being • Healthy adrenals and cortisol levels, optimizing blood sugar and reducing stress • Long lasting mood boosting effects
Clinically Proven
Euphora contains ingredients clinically proven to relieve stress and promote positive emotional outlook.
Delicious. Convenient
• Natural Ginger cream flavor
• Can be taken as a single dose or sipped throughout the day
• Take anywhere, anytime
• Zero sugar
• Refrigeration not required
• Gluten free, Dairy free, Vegan, Non-GMO
 
Take a sip of Euphora anytime to boost your mood.
Take 1 / 2 bottle for moderate mood enhancement, or if this is your first time taking Euphora.
Take one whole bottle for heightened euphoria and maximum effect.
Euphora provides Full-Spectrum CBD combined with the ultimate euphoric ingredients blend, supporting hours of mood enhancing effects without stimulants.
Do not exceed two bottles daily. Consume bottles several hours apart. Use or discard liquid in unconsumed bottles within 12 hours after opening.
Caution:
Consult with your physician before use with pregnant or nursing women, children, and those taking any medications. Avoid taking with alcohol or products that increase drowsiness.
Do not drive or operate machinery when taking this product.
Keep out of reach of children.
Keep out of direct light.
Do not contaminate or touch fluid in bottle.
GABA (gamma-Aminobutyric acid), L-Taurine, L-Arginine, N-Acetyl-L-Tryosine, L-Theanine, Full Spectrum CBD (50 mg), Kanna (Sceletium tourosum), 5-HTP (5-Hydroxytryptophan), Passionflower (Passiflora incarnata), Phosphatidylserine, Ashwaghanda Extract (Withinia somnifera) (Root).
 
Other Ingredients:
Purified Water, Natural Ginger Flavor, Natural Vanilla Cream Flavor, Natural Flavor Enhancer, Sucralose, AgSol Natural Preservative.
No artificial flavors, colors or preservatives.
* % Daily value not established
Offered in 3-pack 1.93 oz bottles and 6-pack 1.93 oz bottles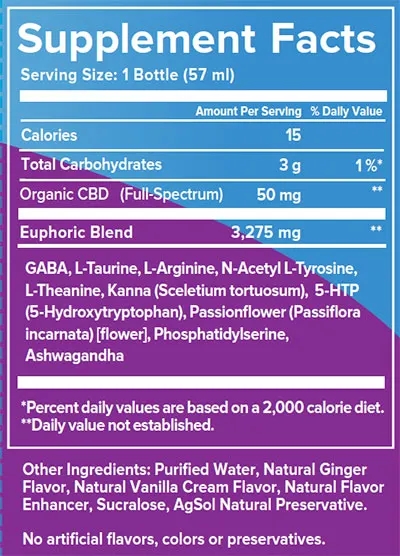 Results RNA is developing innovative products to improve quality of life, increase energy, promote restful sleep, and support overall health. They have invested decades and multi millions in research and development, resulting in groundbreaking formulas that represent a new age in supplementation with their patented and innovative Intra-oral technology.